From Goodreads: As the youngest and only female member of the Knights Templar, Bilquis SanGreal grew up knowing she wasn't normal. Instead of hanging out at the mall or going on dates, she spends her time training as a soldier in her order's ancient battle against the Unholy.

Billi's cloistered life is blasted apart when her childhood friend, Kay, returns from Jerusalem, gorgeous and with a dangerous chip on his shoulder. He's ready to reclaim his place in Billi's life, but she's met someone new: amber-eyed Michael, who seems to understand her like no one else, effortlessly claiming a stake in her heart.

But the Templars are called to duty before Billi can enjoy the pleasant new twist to her life. One of the order's ancient enemies has resurfaced, searching for a treasure that the Templars have protected for hundreds of years — a cursed mirror powerful enough to kill all of London's firstborn. To save her city from catastrophe, Billi will have to put her heart aside and make sacrifices greater than any of the Templars could have imagined.
I bought this book as soon as it came out. It has sat on my shelf glaring at me at times, almost screaming "pull me down and read me." Now I know why. Billi is not to be messed with and I should have read her long ago, I read her now for two reasons, first I have an ARC of Dark Goddess that I am dying to read and secondly Sarwat Chadda is coming to a town near me for a book signing. I wish I hadn't shelved it. I would have loved to have had the painful anticipation of waiting for Dark Goddess. It doesn't happen often to me folks but I am a full on fan of Mr. Chadda and I may have to go fangirly or do something silly like have the vapors at the event.
The book starts off in an extremely grim spot. Billi Sangreal is on her way to becoming a Templar like her father always wanted but there is one final step. The Ordeal. Holy Batman of Tests! Hers is a whopper. There is a six year old escapee who is actually a ghul running around, even though he is cute and cuddly his soul is gone, but Billi has a heart so it goes a little something like this:
He's just a little boy…
"No, Billi!" shouted Arthur, but too late. Billi dropped to her knees and embraced Alex. She pulled him close to her heart and–
the chill seeps into her pores, saturation her skin with ice. Like venom, black ichor floods her veins, pumping her with Alexs's despair, envy, and
HATE
that he was snatched from the sunlight by sweaty hands and crushing fingers, in the dirt and fallen leaves, never to feel the
WARMTH
he misses so much and wants more than anything, and so he sucks it from her, leaving only coldness that is brittle and bone-deep, the air out of her lungs white frost, and her
FLESH
blisters, and tears freeze on her cheeks, and she stares into Alex's eyes, black and malice-filled, remembering only the
AGONY
that he cannot forget, and it eats him, an abysmal virus that he can't contain, so she must
SUFFER
like he did, and the cold burns her heart as he infests her with his darkness burrowing deeper and-
So even though he is only six you can see what type of beast the Templar's are up against and why they are still in business. There is a lot of mythology surrounding the Templar in this book but it isn't the same hum-drum stuff. I went through a phase where I tried to read that hence me buying this book. I DNF'd a lot. I was like "Oh yeah Templar's woohoo" but when I got it home it was all conspiracy theory, shadow government stuff. What Chadda did that was so very interesting is use an almost shadow world full of ghuls and rogue agents of God who the Templar's protect. Billi's mother was lost in an earlier battle, that you learn more about in the ending of the book.
I do have to say that if you find Billi a bit whiny in the beginning stick with her, she grows on your by the end. Try to place yourself in her situation, ratty apartment, despondent dad, best friend shows up after being gone a year. She doesn't even really want to be a Templar. I think Billi evolves through-out this book and I truly enjoyed seeing this evolution of character. Sarwat Chadda is an amazing author, I loved the bits of story like the one I excerpted for you above where you see the really dark stuff, and I laughed out loud a lot too. I will say he writes like a British drama so don't get overly attached to any of the characters.
It was also oh so refreshing to read a book where the main character wasn't white! Billi is half Pakistani and I loved the description of her so much. You could just see her kicking some ghul ass with a sword.
If you haven't read this book you should pick it up. Dark Goddess book two in the Billi Sangreal Series is out now!
FTC Disclosure: I bought this book from my local indie.
From Goodreads: Sovereign Power. Eternal Pleasure.

Revealed at last in this new vampire saga for the ages: the true, untold story of the "Virgin Queen" and her secret war against the Vampire King of England. . . .

On the eve of her coronation, Elizabeth Tudor is summoned to the tomb of her mother, Anne Boleyn, to learn the truth about her bloodline—and her destiny as a Slayer. Born to battle the bloodsucking fiends who ravage the night, and sworn to defend her beloved realm against all enemies, Elizabeth soon finds herself stalked by the most dangerous and seductive vampire of all.

He is Mordred, bastard son of King Arthur, who sold his soul to destroy his father. After centuries in hiding, he has arisen determined to claim the young Elizabeth as his Queen. Luring her into his world of eternal night, Mordred tempts Elizabeth with the promise of everlasting youth and beauty, and vows to protect her from all enemies. Together, they will rule over a golden age for vampires in which humans will exist only to be fed upon. Horrified by his intentions, Elizabeth embraces her powers as a Slayer even as she realizes that the greatest danger comes from her own secret desire to yield to Mordred . . . to bare her throat in ecstasy and allow the vampire king to drink deeply of her royal blood.

As told by Lucy Weston, the vampire prey immortalized in Bram Stoker's Dracula, this spellbinding account will capture your heart and soul—forever.
Let me start this review by saying that I have read tons of Tudor literature. From Weir's actual histories, to Jean Plaidy's historical fictions and much more in the realm of Tudor and not once have I ever read a book that no matter how much I loved it or thought the book was a fantastical representation have I ever thought that Elizabeth's voice was so truly portrayed.
In the moonlight, the scaffold appears to be made of bleached bones from one of the leviathans that wash up on our shores from time to time to general alarm, for what godly world encompasses such creatures? The platform is raised high above the crowd of gray shadows gathered around its base. A woman climbs slowly, carrying the weight of her anguish and fear. She holds her hands clutched in front of her, asthough in prayer. Stepping out onto the platform, she steps into the beast's gaping maw and is devoured.
Sometimes the woman in my vision is my mother; other times she is I.
I felt that Weston's writing and dialogue were so true to how I imagine Elizabeth that I was instantly drawn into her novel and I stayed interested all the way through. If you know my blog at all you will know that I am in no way a fan of mash-ups. I really dislike the concepts of most and laugh at the ridiculousness of the elemental plot, and have tried to read several usually abandoning them by page twenty or so.
The beginning of this novel takes a young Elizabeth through her coronation and shows us the start of the Golden Age as it began. However Elizabeth is immediately met with a supernatural problem that will affect all of her beloved England in the form of Mordred the bastard son of Arthur who did not die on the battlefield when he slayed his father as historical accounts portray. He was in fact given a choice for eternal life and has waited thousands of years for Elizabeth, an actual descendant of Morgaine le Fey to be born so that he can turn her and rule England always with his eternal queen.
A king cannot afford to show weakness. I learned that from my father, who learned it too late to save himself. I was his weakness, as it happens. Arthur loved me despite my failings, so he claimed, when all I wanted was to be loved for them.
Tant pis, as the French say. Too bad.
Elizabeth being Protestant has some immediate issues with Mordred's offer. How can she risk her immortal soul even if Mordred promises her he can make England the capitol of the world and save her from her mortal enemies such as The Pope, and her Spanish brother-in-law? She is captivated by Mordred's beauty but as she learns the twisted vine he has wielded to make sure she became Queen some day and what people in her life were sacrificed by him to make that an assurance her will to defeat him becomes even stronger. Even with her slaying powers will it be enough to defeat the ethereally gorgeous King of the Vampire?
The characters that Weston has used in this fictionalized Elizabethan Age are a perfect pick, the book moves quickly while building on suspense and giving you just enough details and back story as you go to keep you hooked. The book was slated for release in early January but the release was bumped up to today! So you can grab a copy for yourself and one for a friend for Christmastime! I highly suggest that you do so whether you are a fan of the mash-up or like me a skeptic of the sub-genre.
The marketing team and the author have done an amazing job at creating a fun world online and an amazing pre-buzz for the book. Check it out for yourself on Twitter, and the website where the blog posts tell the author's need to get the story out before officials stop her!
FTC Disclosure: I got this book for review from the publisher after seeing the plot. I begged for it via email.
Among the towering trees of magical Avalon, where humans dare not tread, lives Niviene, daughter of the Lady of the Lake and apprentice to Merlin the mage. Her people, the Fey, are folk of the wood and avoid the violence and avarice of man. But the strife of King Arthur's realm threatens even Avalon's peace, and Merlin needs his apprentice to thwart the chaos devouring Camelot. And so Niviene will use her special talents to help save a kingdom, and discover the treachery of men and the beauty of love.

"Like The Mists of Avalon, the Arthurian legend from a woman's point of view." –USA Today
I have read a lot of the reviews on this tour and I have to say I am astounded that people were not immensely in love with this novel. I for one found it quite thought provoking. I however am deeply interested in Arthurian legend and all of the tales of Camelot. So when Paul from Sourcebooks came to me with Merlin's Harp I knew I had to read it.
This is Arthurian romance in a way that has not been done. Imagine that the Lady of the Lake is a fey, and her daughter is living in the time after Arthur has Excalibur. Instead of hearing from the same narrators as always, we here from Niv who is the Lady's daughter. When I read the first paragraph I had to stop and put the novel down and think about what I had just read. I truly believe it is one of the best book openers I have ever had the pleasure to read and I want to share it with you now.
When I was yet a very young woman I threw my heart away. I fashioned a wee coracle of leaf and willow twig and reed, a coracle that sat in the hollow of my two palms. In this I placed my wounded, wretched heart, and I set it adrift on the rain-misted wavelets of the Fey river, and I watched it bob and whirl, sail and sink. Ever since then I have lived heartless, or almost heartless, cold as spring rain the way Humans think all Fey live. Humans I have known would be astounded to learn that I ever had a heart that leapt, brightened, fainted, quickened, warmed, embraced, froze or rejected, like their own.
You can expect a lot of twists and turns and new outlooks on the stale Arthurian legend in this novel. Sourcebooks is allowing Bookalicious to share with you the first 40 or so pages of the novel here.
You can check out the Sourcebooks Teen website and join for contests and chances to read these books first by clicking the logo below: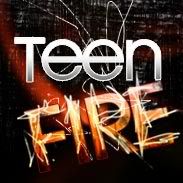 The next two stops on the tour:
Never Ending Bookshelf
Galley Smith